Centerstone to host Problem Gambling Awareness Month events in Illinois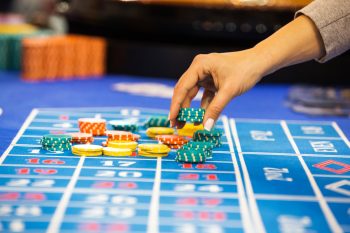 Centerstone is collaborating with the National Council on Problem Gambling and the Illinois Council on Problem Gambling to dedicate March to helping people "have the conversation" about problem gambling.
"Not only will we be spotlighting Centerstone's gambling disorder services, but we will also strive to increase public awareness of problem gambling, reduce stigma, and let everyone know that help and hope are available," said Andrea Quigley, clinical director at Centerstone.
Approximately 2 million U.S. adults (1% of the population) are estimated to meet criteria for pathological gambling, and another 4-6 million (2-3%) would be considered problem gamblers; yet, for many, gambling remains a hidden action.
Problem Gambling Awareness Month is designed to help raise awareness of the prevention, treatment and recovery services available for those adversely affected by gambling. The grassroots campaign, now in its 15th year, brings together a wide range of stakeholders – including public health organizations, advocacy groups and gambling operators – who work collaboratively to let people know that hope and help exist.
Centerstone's Problem Gambling Awareness Month activities include:
Problem Gambling Awareness Month ribbons available for everyone from 8 a.m. to 3 p.m. Monday-Friday throughout March at the following Centerstone locations:

2311 S. Illinois Ave., Carbondale, IL
1307 W. Main St., Marion, IL

Problem Gambling Awareness Month yard signs available for area businesses, organizations and others throughout the month of March. To receive your sign, call Angela Quigley-Ragland, Centerstone clinical coordinator, at (855) 608-3560, ext. 7975.
Problem and Compulsive Gambling Symposium from 10 a.m. to 2 p.m. on Wednesday, March 4, at The Pavilion, 1602 Sioux Drive, Marion, IL. All participants must register online by clicking here.
Gambling Disorder Screening Day from 8 a.m. to 3 p.m. on Tuesday, March 10. The gambling disorder screening will take approximately five minutes to complete. Food and drinks will be available for all those completing the screening. Screenings will be available at the following Centerstone locations:

2311 S. Illinois Ave., Carbondale, IL
1307 W. Main St. , Marion, IL
To get help for a gambling problem for you or a loved one, call (800) 522-4700. The call is free and confidential.
For more information about problem gambling and how to have the conversation, go to ncpgambling.org/pgam or centerstone.org/centerstonehelps.
About Centerstone
Centerstone is a nonprofit health care organization dedicated to delivering care that changes people's lives. We provide mental health and substance abuse treatment, education and support to communities in Florida, Illinois, Indiana, Kentucky and Tennessee and additionally offer individuals with intellectual and developmental disabilities life skills development, employment and housing services. Nationally, we have specialized programs for service members, veterans and their loved ones, and develop employee assistance programs for businesses of all sizes. Our research institute improves behavioral healthcare through research and technology, and our foundation secures philanthropic resources to support our work.
About the National Council on Problem Gambling
NCPG is the national advocate for problem gamblers and their families. NCPG is neutral on legalized gambling and works with all stakeholders to promote responsible gaming. For more information on the 32nd National Conference on Problem Gambling, visit ncpgambling.org/conference. If you or someone you know has a gambling problem, call or text the National Problem Gambling Helpline Network at (800) 522-4700 or visit ncpgambling.org/chat for confidential help.