Grief, loss and substance use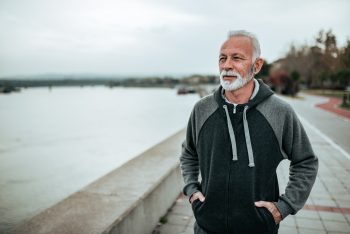 A major component of recovery for many is accepting that grief is a part of life. At the end of the day, there are healthy and unhealthy ways to express grief. There is no one size fits all prescription for people to follow while they grieve. Grief is not only experienced when someone we know passes away. Many other life events such as divorce or loss of other significant relationships, job loss and even recovery may also require a person to go through the grieving process.
As people enter into recovery from substance use disorders, grief is one of the main emotions they may struggle with. Grief is a trigger for relapse for many people. For some people, unresolved grief may be where the substance use began for them. Others may have never let themselves grieve losses that happened while in active addiction.
Often, people entering into recovery are learning to feel emotions again, emotions they may have been numbing for a long time. In this case, they also are starting to realize and accept some of the things addiction took from them, things such as living by their personal values, the trust of others, people, jobs, material possessions and loss of control.
Early recovery is a new and exciting time. It's a fresh start, but fresh starts come with loss too. Let's explore some of those losses that may happen in early recovery and how to cope.
The substance itself– Ditching the substance of choice is a great thing to lose, but it can be really difficult for people struggling with addiction. For many people who struggle with addiction, that substance has been their one coping skill. Their substance use likely provided them with the tools they needed to relax or distract themselves from a reality that was too overwhelming for them. No matter how much a person knows this is unhealthy and desires to stop using substances, this may be a real loss they need to grieve. If you struggle with this, try writing a goodbye letter to you substance of choice.
Friendships- During active addiction many people disengage from relationships with people who are not supportive of their addiction. They begin to build relationships with people who do support their lifestyle choices. They may spend most of their time with people they used and/or drank with, went to happy hour with, or partied with. All of this has to change in recovery. They get a chance to rebuild old relationships and also build new relationships. This doesn't mean they didn't care for any of their old friends, though, and they may miss them and now worry about them getting into recovery as well. Community support groups are a great place to build new friendships.
Freedom- Recovery requires accountability. Accountability means checking in with other people before making decisions about things. Instead of seeing this as a bad thing, accountability should be viewed as a safety net, because we all need protection when we fall. Accountability, things like getting a sponsor and checking in with friends in recovery, keeps the recovering person safe as well.
Identity- If someone has been in addiction for a long time, they may feel they are losing the person they see themselves as, their addiction identity and moving toward a recovery identity. Even though changing is a positive thing, it's often a difficult thing. People can be fearful not knowing who they will be on the other side of their substance use. It will take work to make life changes that bring about a recovery identity. Change is always hard.
In order to make these changes and work through any unresolved grief someone may have, the first step is developing a healthy support system. Those who are in recovery must make sure that they have people who help them work through all of these overwhelming emotions. They need some people who listen, other people who counsel and even may need people who can assist them with certain tasks. This group can include family, friends, professionals, community support groups and other organizations.
Mandy Hazel, BS CADC, has been a counselor and case manager at Centerstone's Fellowship House campus since July 2014. Mandy works with patients in the outpatient, detox, residential and family programs and has also served as a preventionist.