Centerstone wins 5 TAMHO behavioral health awards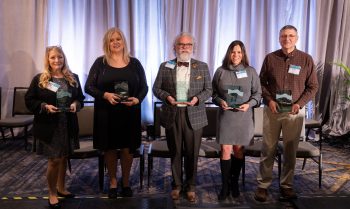 Nashville, Tenn. (December 17, 2021) — Team members at Centerstone, a national leader in behavioral health care, received five honors at the recent Tennessee Association of Mental Health Organizations (TAMHO) 2021 annual conference and awards ceremony.

Daniel Mansfield, a Centerstone clinic manager in Tullahoma, was given the Emerging Leader Award. It honors individuals who have demonstrated significant potential for leadership and continued services.

Rhonda Felts, a Health Link team leader in Tullahoma, received the inaugural Andrea R. Chase Impact Award. It honors outstanding individuals from TAMHO member organizations whose efforts are frequently unrecognized but are truly needed for the system to be successful.

Mandi Ryan, vice president of Healthcare Integration for all Centerstone operations in Tennessee, was selected for the Dorothea Dix Professional Service Award. It honors a behavioral health professional who has provided significant contributions over an extended period of time to the behavioral health system that will have a far reaching positive impact on the quality and scope of behavioral health services in Tennessee.

Julie Spears, regional finance officer, and Brad Nunn, chief clinical quality officer, were also honored with TAMHO President's Awards for their service on TAMHO's executive committee, helping the organization navigate unprecedented behavioral health industry concerns surrounding the COVID-19 pandemic.

"Centerstone is honored to receive these recognitions from TAMHO, and we are grateful for the excellent work done each day by Daniel, Rhonda, Mandi, Julie, and Brad to help us deliver care that changes people's lives," said Ben Middleton, Centerstone regional CEO in Tennessee and Georgia.

About Centerstone
Centerstone is a nonprofit health system providing mental health and substance use disorder treatments. Services are available nationally through the operation of outpatient clinics, residential programs, the use of telehealth and an inpatient hospital. Centerstone also features specialized programs for the military community, therapeutic foster care, children's services and employee assistance programs. Centerstone's Research Institute provides guidance through research and technology, leveraging the best practices for use in all our communities. Centerstone's Foundation secures philanthropic resources to support the work and mission of delivering care that changes people's lives.

About TAMHO
The Tennessee Association of Mental Health Organizations (TAMHO) is a statewide trade association representing Community Mental Health Centers (CMHCs) and other non-profit corporations that provide behavioral health services. These organizations have historically met the needs of mentally ill and chemically dependent citizens of Tennessee from all age groups and socioeconomic levels.