Community Foundation Awards Grant to Centerstone for Nurturing Parenting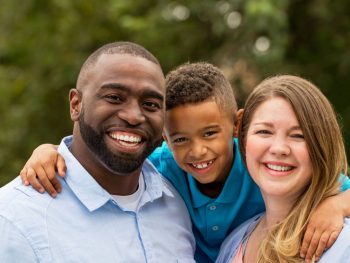 Thanks to a generous grant from Community Foundation Partnership, Inc., Centerstone's Bedford, Indiana office has recently launched a new Nurturing Parenting Group for new parents and their infants. The $2,136 grant funded the purchase of the instrucutor manuals, participant guides, family games, and media needed to facilitate the evidence-based group for parents and their young children.
Nurturing Parenting is an evidence-based, trauma-informed treatment protocol designed to teach program participants new postive, nurturing parenting skills to break the cycle of child abuse and neglect that too many families find themselves bound by. Already used to great success in other Indiana counties served by Centerstone, we are excited to extend this program to Lawrence County.
The Lawrence County initiative currently receives participant referrals from the Department of Child Services whenever a local infant is identified as substance exposed. The 16-session Nurturing Parenting protocol helps parents increase their understanding of their own history of abuse, neglect, and substance use and how these beliefs and practices impact their children. They are then given the training and tools to replace those patterns with caring and productive parent-child interactions.
Group facilitators in Bedford report a positive response from participants, noting that the program has expanded to accommodate more clients even as some of the earliest participants successfully graduate. Materials funded by Community Foundation Partnership, Inc. will allow us to continue to offer this resource to Lawrence County families for years to come, including the potential to expand the groups to include parents of toddlers and preschoolers as the need dictates. As the number of DCS referrals in the state continues to grow, programs like Nurturing Parenting are crucial to turn the tide.
Centerstone and the families we serve are grateful for the support of Community Foundation Partnership, Inc. for vital programs like these and are proud to count the Community Foundation as a partner in our noble purpose of delivering care that changes people's lives.