Indiana Teens Get Surprise Visit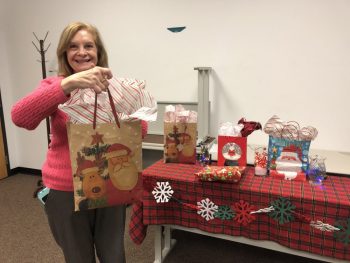 Teens in Columbus, Ind. had a wonderful event that included special gifts thanks to the generosity of the Sunrise Rotary Club and its members.
The teens are part of a weekly support group created for students aged 13-18 who have been diagnosed with depression and anxiety. Many are dealing with other issues including thoughts of suicide. According to Elizabeth Venzin, unchecked, low self-esteem may even lead to mental health issues such as anxiety and depression, sometimes with tragic results.
At weekly meetings, teens learn self-worth, build self-esteem and how to build lasting appropriate relationships with other students and adults.
Sunrise members, realizing the teens having aged out of community programs were facing the possibility of no longer benefiting from those programs. As a result, the Rotarians decided to host a special party just for the group.
Teens and Rotarians had a great time getting to know each other over pizza and games. Teens were surprised and delighted to learn the party would continue the following week when the group would go on a shopping trip, along with their caseworkers, to spend funds donated by club members.
In her 'thank you note,' one teen shared, "I am so appreciative for everything you have done for not only me but for all the girls in the teen group. Our gift at the party and shopping trip meant so much to me. I now have bras that actually fit! These things may seem simple, but to me it means the world, thank you once again!"
Relationships between teen and rotarians will continue to grow. Sunrise Rotarians plan to visit once a month to provide support and encouragement.
---
Being a teenager is hard. That's why we have answers to a lot of common questions that teens might have – about mental health, drugs and alcohol, sex and relationships, social media and internet safety, bullying and more.
If you have questions, please contact us and we'd be happy to answer them.
---
Be sure to check out our comics made to help teens understand and deal with these issues!