The Tidal Wave of Trauma Transformation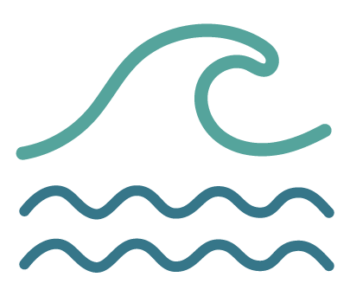 By Camille Lashlee, MA, CPS, Manager of Implementation and Sustainability
We tend to think of childhood trauma in terms of adverse experiences such as abuse, violence, or living in a home facing mental health or substance use issues. The COVID-19 pandemic has required us to reconsider how we think about trauma. Many have felt its impact in this tidal wave of toxic stress resulting from isolation, financial insecurity, fear of contracting COVID-19, and the unexpected illness and/or death of loved ones.
While trauma-informed care has been an integral component in service delivery, Centerstone is continuously improving and adapting how we deliver trauma-focused care for children and families. Partnerships via grants from federal agencies, such as the Substance Abuse and Mental Health Services Administration (SAMHSA) and Health Resources Services Administration (HRSA), are supporting opportunities to pilot innovative ideas to engage and reach clients in spite of the changes brought about by the pandemic. This work is resulting in sustained service delivery strategies and identified areas for further exploration.
Continuing to provide the same or an increased level of trauma-informed services to children and families over the past year has been a challenge, which required creative approaches to resolve. Centerstone Healthy Start Tennessee (HSTN), funded by HRSA, enabled staff to employ creative tactics to maintain service delivery during the pandemic. Rachel Hanson, HSTN Program Manager, states that:
"It has been amazing what creativity staff have demonstrated to ensure services have been uninterrupted and engaging given all the challenges this last year. When staff realized that wearing masks was keeping young children from reading and learning facial expressions, an essential component of healthy social and emotional development, they immediately partnered with a statewide organization to secure clear facial masks. Also, having the capacity to quickly implement virtual group sessions for parents allowed them to continue participation. Staff observed that fathers would often accompany the mothers in attending prenatal classes or support groups which was not typical with in-person sessions."
Centerstone's SAMHSA-funded Trauma Treatment and Training (CT3) project is piloting new ideas for engaging and treating children, adolescents, and their parents. In Indiana, CT3 implemented an innovative art therapy strategy to engage youth, the 'Skateboard Project'. Kris Nunn, CT3's Project Director in Indiana, indicated that "clinicians worked with youth to create individual art on their skateboards and shoes. This helped youth explore their emotions and feelings regarding their personal trauma as it fostered the ability to heal and cope."
Tari Allan, CT3 Project Director in Florida, says: "staff have to be very creative as they continue to provide uninterrupted services. For example, therapists developed virtual playrooms and interactive whiteboard activities for telehealth sessions. Play therapy resulted in an unexpected outcome for work with preschoolers, that of having an increase in parent involvement and parents actually desiring to be more of a therapeutic partner as they observed their child's play. Staff began to see parents becoming much more observant and understanding of themes demonstrated in child play, which in turn led to new areas for parent training."
Lessons learned are essential byproducts of any pilot project. Grant funding provides resources to cultivate long-term benefits such as enhanced stakeholder relations, new partnerships, and integration of new knowledge and skills into existing services. One example is Centerstone's CT3 team's active membership in the National Childhood Traumatic Stress Network (NCTSN), thus facilitating their participation in collaborative work groups with cohorts across the country.
One NCTSN group project focuses on anti-racism and has been integral to the CT3 Florida team's trauma informed care initiative. It has enhanced their capacity to recognize and mitigate race-based inequities resulting in trauma-related disparities as well as to integrate sustainable strategies of care for children and families into their standard service plans.
Kris Nunn, CT3 in Indiana, cites another example addressing the systemic, longstanding lack of awareness and validation regarding the impact of trauma. She reports "federal grant funds have provided the means to bring diverse people to the table by way of Advisory Board membership. This diversity enabled them to recognize the need for sustainable childhood trauma care in their community. They no longer reside in their separate silos but are now together under the same roof and will continue their advocacy for children and families long after the grant funding ends."
The HSTN project utilized HRSA grant funds to develop and expand their Community Action Network (CAN). April Scott, HSTN Project Director, reports that "CAN is made up of a very diverse group of individuals, including an average of 25%-35% of enrolled project participants who have become active members, some even taking on leadership roles. They have learned to steer community change via collaboration, information sharing, and advocacy. Their involvement with CAN activities will be integrated into other existing programs once HSTN ends."
Reflecting on the past year, we needed to acknowledge our successes and how well we leveraged opportunities for effective trauma-informed services during a unique, chaotic event. Building on lessons learned and moving forward, we must continue examining how we realistically meet challenges using innovative ways to enhance and expand service quality and delivery. While we experienced transformation and positive change over the past year regarding trauma-focused care, areas for growth remain as we ask ourselves and continue partnering with experts to answer questions such as:
How do we consciously address existing and expanding disparities among clients, staff and community stakeholders?
How do we recognize added stressors and their impact on those most vulnerable?
What new community partners can be engaged to learn trauma-informed strategies?
What are new ways to ensure strong communication and social connections among clients and staff alike?
What are new strategies we can implement that help to build resilience and stabilize families via mitigating, minimizing, and/or preventing adverse consequences during chaotic times?
Have questions or ideas related to this article? We'd love to hear from you! Contact us now and someone from our team will get back to you shortly!