Rebuilding relationships amidst addiction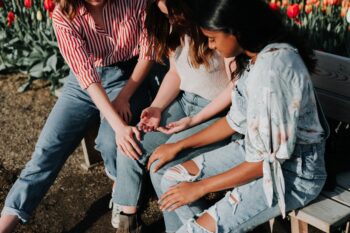 A substance use disorder (SUD) is a chronic condition that affects every part of you, both physically and mentally. The negative effects can be clearly seen in someone who has struggled with an SUD for a long period of time. However, these effects are not limited only to the user.
Family members and close friends of individuals with an SUD feel the weight of the disorder. These relationships are often damaged or broken as a result of the person's addiction.
How addiction affects relationships
Prioritizing the substance first. When an individual struggles with an SUD, their brain reorganizes their priority list. Their mind and body demand them to seek the substance before anything else, putting relationships on the backburner. Over time, these relationships deteriorate as friends and family continually feel rejected and abandoned.
Changing how they see others. The mind of an individual with an SUD trains them to remove all barriers to getting that substance. "Over time, someone with an SUD could begin to perceive the people who are trying to help them to be barriers and may begin to isolate more and more," says Michael Chesek, MA, LMHC, Supervisor of Inpatient Clinical Services for Centerstone's Behavioral Health Hospital and Addiction Center. "Addiction thrives in isolation." They no longer want to be around them because they are getting in the way of the high they are trying to reach. However, this can also work the opposite way. The person with the SUD may view others as a method of sustaining their addiction, resulting in manipulative interactions to get what they want. Either way, some level of dehumanization usually occurs.
Changing how they see themselves. Those struggling with SUDs often have negative perceptions of themselves. They often feel high levels of guilt and shame once their high wears off, which can increase the prevalence of other mental health issues, like depression and anxiety. Low self-esteem often contributes to them feeling incapable of fulfilling their roles as parent, spouse, child, employee or anything else, and they confirm these feelings by abandoning those roles, further damaging those relationships.
Restoring these damaged relationships
Fortunately, no relationship is ever too far gone for the people involved to find restitution. Both parties will have some work to do, but healing is possible.
For the person with the SUD:
Accept the situation. Take responsibility for the damage you've done to the relationship, without being to self-condemning. Accept that things have changed and you can't pick up where you left off.
Invest time in yourself. The first step you should take is getting professional help. Seek out treatment, rehabilitation, support groups or anything else that will help you move toward recovery. "Take time to heal and grow in recovery before making amends," says Michael Chesek. "You want to be sure to show tangible proof that you are trying to make a change so that both parties can have hope in the restoration of the relationship."
Don't push. Don't pressure your family or guilt them into forgiving you. While you may have proof of change already, they might need to see change for longer before feeling safe to open up to you again. They may want to keep their guard up for some time, so accept this and be patient.
For the family and friends:
Recognize the new normal. Even if you already feel ready to forgive and forget, remember that things are different. Know that there is a new normal and you will have to adjust rather than trying to recapture what was before. When taking their first steps toward recovery, they may even experience as much imbalance as during their addiction – they need time to rewrite their current normal.
Be willing to give them space. You may want to accompany your loved one on every step of their recovery journey, but some parts they have to do alone. "Focus on your own healing and give your loved one time and space to focus on theirs," says Michael Chesek. "While it is tempting to make relationship restoration the goal, let them prioritize recovery first. There will be time later to figure out how your relationship will need to be prepared."
Support, support, support. While you don't need to be directly involved in every step of their recovery, you should support them throughout. Educate yourself on SUDs – remember that it's a mental health issue and not a choice. If they invite you to join them in parts of their recovery, accept the invitation and walk with them. Reassure them that their condition does not make them a bad person. Finally, be sure to seek out adequate support for yourself in the form of individual counseling or Al-Anon meetings.
Throughout it all, remember that restitution is always possible and will be worth it in the end.
To learn more about how Centerstone can help people dealing with SUDs, call 1-877-HOPE123 (877-467-3123) or visit centerstone.org/service/addiction-recovery/.
---
---