The Power of Personal Choice and Control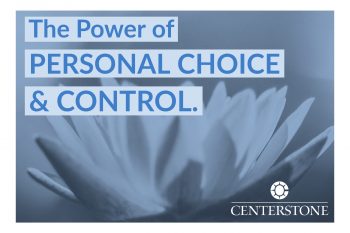 Life can be very stressful, especially when we focus on things over which we have little or no control. But we do have control over a number of things in life and when we utilize the power of personal choice and alter our perceptions, we can dramatically reduce our experiences of ongoing stress.
Here are four common areas of stress that often return a greater sense of control to ourselves:
1. Other people
There are many types of personal relationships we have that can add stress to our lives, such as family members, spouses, in-laws, co-workers, friends, and even neighbors. And unfortunately, we can't control the actions and responses of these other people, who often have very important roles in our lives. We can't direct their perceptions, preferences, opinions or reactions. We can control how we interact with them; how we speak, how we act. And we can ask for what we need or desire. The challenge comes when other people disappoint us.  This is an unavoidable fact of life. Realizing the power of personal choice, we are better able to let go of our need to control other people or situations. We acknowledge others as having this responsibility for themselves, and we choose how to communicate and interact in these relationships. While it is normal to desire certain outcomes in our relationships, knowing the limits of control we have reduces our experience of stress and frustration.
2. Worry about the past or the future
We all have regrets and wish we would have done some things differently. "Woulda, coulda, shoulda" thoughts, without new actions, only bring stress over things that have past. The good news is we can learn from the past, whether it was a mistake we made or a disappointment or failure of another person.We can begin growing in a new direction whenever we choose to.
It is also common to think about what the future will bring. But there is a difference between having some valid concerns and stressing over it. Worry turns stress to strain. There are no guarantees, except the opportunity to practice resiliency and to let go of what you don't control, such as the past. Your only control of the future is based on what you do today!
3. Health concerns
You can't watch the news today without hearing about the statistics and debilitating–if not deadly–effects of heart disease, cancer, obesity, and others. It is important to acknowledge the facts of aging and illness, but it is imperative to arm yourself with information and to take initiative regarding what you have control over in terms of your health. Do you get regular physical exams? Do you communicate your concerns to the doctor and research wellness plans and treatment options?  It is wise to seek professional consultation about your physical and mental health. We don't have control over our genetics, but we can fully participate in caring for our body. Being responsible for getting rest, eating properly and being active are personal choices over which we have control. Regain your control. Spring clean your diet and start some form of exercise. Walking is one excellent option, available to most people. It is free and can be fun! You can regain your energy to live your best life by addressing some common areas of stress about your health!
4. Happiness
I recently heard the statement, "Your happiness does not depend on happenings." Meaning, happiness is not what happened, it is how you think about what happened. As mentioned earlier, we can't fully rely on other people, or circumstances, to bring us happiness. There is no objective way to tell you are having a good life or a good day. Your life is a success based only upon your judgment. Joy can be personally defined. And each decision you make can move you towards or away from how you define "happiness." It is never too late to change, to break the chains of self-defeating attitudes and habits. Challenge yourself to grow in the qualities you admire and practice the power of personal choice and control. Your relationships, your health, and your happiness will benefit. And you will feel a greater sense of control over managing stress and will be moving in the direction of a future you desire. Less stress will be just one benefit!
---
---