How the COVID-19 pandemic has impacted teens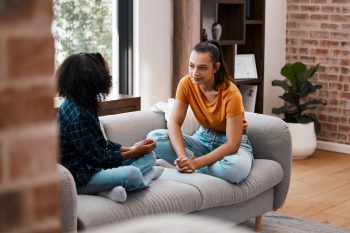 Your teen years can be an already tumultuous time. Add on top of it the trauma, stress, fear, grief and uncertainty of the COVID-19 pandemic, and you may feel completely overwhelmed.
The pandemic likely affected your school, friendships, goals, social plans and mental and physical health. You might even have lost a loved one to the virus, experienced or witnessed racism or xenophobia, or experienced abuse in your home. These stressors can make existing mental health issues—like depression and anxiety—more intense.
The trauma of the pandemic can have lasting effects. It's normal to feel isolated, lonely, scared, confused, uncertain, stressed, sad and anxious, even when things get better.
Tips for teens: Dealing with pandemic-related stress and anxiety
Tell someone how you feel. You don't have to deal with your feelings alone. Talk to your parents, friends, family, teachers, counselor, coach or other trusted adult about how you feel.
Make time for activities you enjoy. Do something fun every day, like playing a sport, reading, watching your favorite show, playing video games, calling a friend, doing a puzzle, cooking or exercising.
Move your body. When you're stressed, sad and overwhelmed, exercise may be the last thing on your mind. But taking care of your body is an essential part of caring for your mental health. Aim to get some physical activity each day, whether that's a walk outside, playing basketball or following along to a yoga video on YouTube.
Eat nourishing foods. While it can be tempting to eat a lot of sugary and salty foods, like chips and cookies, when you're stressed, you'll feel your best when you eat a balanced diet. This includes vegetables, fruits, lean protein (like chicken, beans, fish or turkey), healthy fats (like avocados, nuts and seeds) and whole grains (like oatmeal or quinoa).
Create a morning routine. Having a daily routine can help you feel more in control during uncertain times. Aim to go to bed and get up around the same time each day, even on the weekends. Add something fun and healthy to your morning routine, like exercising, going for a walk, making a smoothie, reading an inspiring book or journaling.
Keep screen time in check. For a better night's sleep, put away your phone, laptop or tablet at least an hour before bed.
Tips for parents: How to support your teen during the pandemic
Keep the lines of communication open. Let your teen know you're there for them and always available to talk.
Make your home safe. It's critical to make your home safe, especially if you're worried about your child. Remove any weapons and ammunition from the house and keep medications locked away.
Set a good example. As a parent, you can set the tone in your home by practicing self-care, talking about a brighter future and limiting exposure to the news.
Watch for warning signs. Look out for symptoms of depression, anxiety, self-harm or suicidal thoughts. While it's normal for teens to feel sad, angry or overwhelmed, if these feelings affect their ability to do schoolwork, have fun or connect with loved ones, it's time to seek help. Signs to watch for include:
Feelings of hopelessness or emptiness
Changes in sleep patterns
Difficulty concentrating
Weight loss or weight gain
Changes in eating habits
Contact with friends who are known to be troublemakers
Isolation
Loss of interest in activities they once enjoyed
Talking about suicide
Decreased academic performance
Anxiety and excessive worry
Risky or reckless behavior, such as sneaking out or using alcohol or drugs
Aggressive behavior
If your teen exhibits these warning signs, consider seeking mental health support. Talk to your primary care provider, pediatrician, school guidance counselor, school nurse or mental health care professional.
Need more info? Connect with an Expert.
Sources:
AMAZE.org: Does #SocialDistancing have you feeling isolated?
CDC: COVID-19 Parental Resources Kit – Adolescence
CDC: Support For Teens and Young Adults
HHS.gov: U.S. Surgeon General Issues Advisory on Youth Mental Health Crisis Further Exposed by COVID-19 Pandemic