Balancing Involvement to Support Children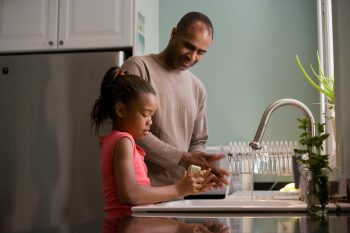 As caregivers and parents, it is vital that we develop a healthy way to guide, nurture and support the children we love every day. Every human being has a biological need for connection with others.
"Being in nurturing, supportive relationships with parents is critical for children to develop into healthy, resilient adults. Individuals that recall having these types of relationships during childhood have significantly lower rates of depression and other mental health issues during adulthood" says April Scott, Infant and Early Childhood Program Manager at Centerstone. "Children with positive relationships and community connections develop the ability to respond to life's challenges in a productive way".
Providing a healthy, stable source for this vital learning and development is incredibly important for overall wellness and can also contribute to academic success.
Ways to support your children while being involved:
Getting involved and showing an interest in the lives of children is the best way to make them feel supported.
Develop a routine. Having a child-centered routine allows the child reflect on their own experiences, learn how to communicate these experiences effectively and find more value in them as they notice someone take an interest. Younger children might like to show caregivers the work they did at school that day or display it at home. There are simple questions you might ask to help them reflect on their school days: "What was your favorite part of the day," or,  "How was that test today?"
Open line of communication. Attend conferences and reach out when your child is struggling or volunteer for school events. Taking these opportunities helps create a positive connection between home and school. Children will respond positively to their caregivers taking an interest in their academic activities and find even more value in them.
Learning to respect boundaries while being present:
While parents and caregivers should be involved in their children's lives, setting boundaries is important for their development as independent humans. "The extent to which a caregiver needs to be involved in their child's educational environment is going to look different for each family," says Katrina Watts, RIP Director at Centerstone, "Building autonomy may differ based on the child's developmental stage and individual needs."
Problem solving. It is vital that children learn how to solve problems on their own. One way you can do this is by stepping away from resolving conflicts for your children, and instead choosing to support them as they approach the issues themselves. You can support their self-driven conflict resolution by helping them practice how to ask for help, voice concerns and advocate for themselves. Start by asking questions such as, "Do you think you can address this on your own?"
Academic success. In general, all parents and caregivers want their children to do well academically. "There are several proactive ways to help a child succeed, such as structured homework times, free tutoring and community resources that help promote academic success, but the greatest asset in helping a child succeed is the unconditional love and support of their parent or guardian," says Ann Blankenship, Regional School-Based Coordinator at Centerstone. When children struggle academically, positive encouragement could mean more than punishment. Let them take the lead in asking for help and assure them that you will have their back no matter what.
Centerstone supports children through individual school-based and family counseling.
If you know a child who needs extra support with their mental health, Centerstone can help. Call us at 1-877-HOPE123 (1-877-467-3123) for more information about our children and family services.
---
---