Mental Health Tips for Step-Parents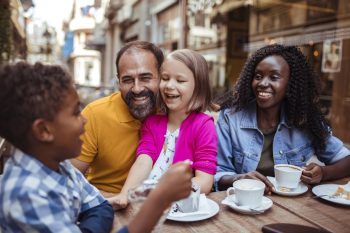 "Family" can hold a variety of meanings, roles, and relationships for everyone. One dynamic often overlooked is being a step-parent. Step-parents (or bonus-parents) are parental figures that are not biologically related to a child but linked through a relationship or marriage with a biological parent.
Movies, television, and society show a lot of different pictures of a step-parent that can be unpleasant. It can be a challenging new role to take on! "Step-parenting is met with many new obstacles, and there isn't a lot of guidance available," says Casey Stover, Family Life Educator and Family Support Specialist at Centerstone. Some of the most common struggles step-parents often face include navigating each new relationship, adapting to their new roles, building a cohesive family structure and maintaining patience and understanding through all of the transitions.
When faced with change, it is not uncommon to meet resistance and discomfort. Step-parents may often feel lost or struggle to figure out how to approach their new role; however, growing with each relationship can be rewarding and even bring healing. Benefits of being a step-parent may include bonding with a child or children that are not biologically your own, growing as a person while navigating various transitions, and ultimately becoming a family.
Here are some tips to help you in your journey in step-parenting:
Patience is key. Consider that relationships with the child or children may not happen overnight; it will take time and work to build trust and establish boundaries early on. Children often have a lot of hesitations and may act out as they are adjusting to the transition—this doesn't have to be something you take personally. It is important to try and give yourself as much patience and compassion as you would provide the children and your partner.
Maintain self-care. Check-in on yourself and how you are feeling. Try to do the things you love and maintain the aspects of your life before becoming a step-parent that brought you the most joy. Allowing yourself the space to have hobbies or take care of yourself will create more balance.
Find support. Try to research what works well in other families, join virtual or in-person support groups, or talk to trusted friends or family members who might understand what you're going through. If it becomes too overwhelming, try to seek help from a mental health professional or try out family counseling.
Establish roles.  It is essential to set expectations for each other. "One of the most crucial keys for success is to take time with the biological parent to figure out your role(s) at the beginning, and how you will navigate that as a team," says Stover. Every person will struggle at some point, so be mindful and listen when someone communicates their needs.
Remember that being a step-parent is a big transition and will not always be easy. Support and many resources are available to you and your family as you try to navigate this change.
If you or someone you know is struggling with their mental health in their step-parenting journey, Centerstone can help. Call 1-877-HOPE123 (1-877-467-3123) for more information about our children and family services.
---
---