Talking to Children about Divorce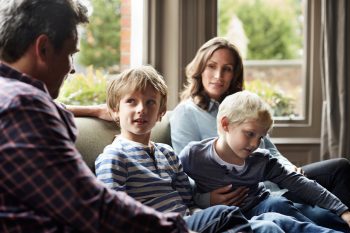 Families don't always stay together as originally planned, and divorce becomes a challenging reality. How does one address this complex topic with children?
"Tell your children when it is fully decided on," says Tanya Croucher, family support specialist at Centerstone. "It is best to prevent any confusion in this scenario."
It is also important to be gentle with your children when addressing this topic.
"Consider the children's developmental age, and make it as appropriate as possible," says Hannah Lovett, Early Childhood program coordinator at Centerstone.
One of the best practices is to consider the children's feelings at this moment—ask them how they feel and encourage them to voice their opinion. Children might feel a lot of discomfort, instability, and even misguided senses of blame and guilt. Take the time to reassure your children and let them know they are not to blame. But keep the details private according to their developmental age and initial reaction.
Also, be considerate of the child's feelings. Never overshare information about the divorce, which can be even more traumatic for the children than it is for a parent. Here are several things to consider when talking about divorce with children:
Routine. "Keep things as normal as you possibly can, and try to keep things civil and friendly with the other parent for the children," says Croucher. "Offer some comfort items like stuffed animals, blankets, and more to keep your child feeling safe through this process."
Reassurance. "Try to approach any conversations on their level," says Lovett. "Every family is different, and communication styles might differ depending on that, but try to avoid coming from an angry place. Parents might risk creating toxic stress for their children, so consider their needs."
Quality time. Spend time with your children and make especially sure they are getting attention during this transition. It will be an adjustment for children to have more than one home, and it is crucial to think about the best kind of support you can provide to your children.
Give them a voice. Children are allowed to be upset by divorce, and parents should try to encourage them to put words to their feelings. "Kids need their own voice," says Croucher. "This is the best time for them to learn coping skills and utilize activities to help release these emotions."
Keep things private. No matter how frustrated or upset you are with the other parent, avoid venting about them in front of your children. Parents should try to find an outlet for themselves to release their feelings without including their children in that process.
Divorce is a complicated situation for any family. It is important for parents and children to practice their healthy communication and coping skills every step of the way.
If you or someone you know is struggling with their mental health, Centerstone can help. Call 1-877-HOPE123 (1-877-467-3123) for more information.
---
---