Depression Treatment Protocol Pilot for Seniors and Disabled Adults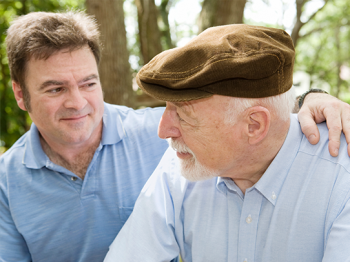 Depression is a very real and disabling condition that affects individuals of all ages and abilities; however, the impact of depression among older and disabled adults is particularly strong and often overlooked. Nationwide, 6.7% of adults under the age of 60 suffer from depression; in seniors and disabled adults, the rate is 16.7%.
Major life changes among older and disabled adults – loss of independence, physical health problems, feelings of isolation, and the death of a partner or other close friends and family members – occur more frequently and can become strong contributing factors to depression. These life-changing events, coupled with a lack of education about depression, put older adults at increased risk. A survey by Mental Health America reports that 58% of Americans aged 65 and older believe it is "normal" for people to get depressed as they get older. Since it's "normal", many people believe there is nothing to be done and don't seek treatment.
Luckily, there is hope. Through a grant from the Reid Health Community Benefit Fund, Centerstone in Wayne County, Indiana, developed a one-year pilot program to address this community health issue. The focus on Wayne County was intentional: local research shows rates of depression among Medicare-eligible adults in the area are closer to 22% – significantly higher than the national average. Using Problem Solving Therapy in conjunction with life skills training, a specially-trained team of Centerstone clinicians worked with 15 Medicare-eligible adults with a diagnosis of moderate to severe depression to help them identify and address the problems that contribute to their depression.
Problem Solving Therapy is a recognized, evidence-based treatment for adults suffering from depression. It provides a seven-step approach that helps individuals actively problem-solve daily challenges, learn to cope more successfully, and feel more in control. The pilot program paired Problem Solving Therapy with life skills training, another evidence-based practice that provides opportunities for participants to try new skills in a controlled setting, creating greater proficiency and confidence when applying those skills in their day-to-day lives. Since Medicare does not currently pay for life skills training, funding from Reid made this integral component of the pilot program available to participants at no additional cost to them.
Participants received six sessions with the Problem Solving Therapy Team, alternating Problem Solving Therapy with life skills training to practice new skills. Participants completed the Patient Health Questionnaire (PHQ-9) during their intake assessment to obtain a baseline measurement of their depressive symptoms and depression's impact on their daily functioning. The PHQ-9 was re-administered in the middle of treatment and again during the last session, providing numerical data on changes in participants' symptoms and daily functioning as a result of treatment.
While not all particpants completed the full course of treatment due to a variety of personal reasons, each individual provided some data that helps us analyze program success. The average initial participant score on the PHQ-9 was 13. By the middle of treatment, this score had reduced to 11, indicating noticeable improvement in daily functioning and reduced symptoms of depression. Given the small sample size, individual results based on PHQ-9 scores were mixed, though they do demonstrate a positive trend.  The majority of participants also self-reported improvement in their daily functioning, decreases in their depressive symptoms, and positive feelings about their experience with therapy and life skills training. One participant, who had particularly mixed scores on the PHQ-9 assessment, nevertheless asserted that treatment helped him feel better and requested to continue in therapy and medication management after he completed the program. Since most of our participants had never received mental health treatment of any kind before this program, their positive experiences are particularly impactful, letting them know that help is available and helping break down stigma among older generations. Centerstone staff will continue to offer Problem Solving Therapy and life skills training to help individuals develop new skills to lessen their symptoms of depression and improve their lives.
---
---