How to cope with the loss of a loved one from suicide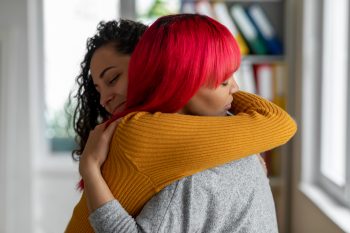 Suicide is one of the leading causes of death in the United States and the rate at which it occurs has been rising since 1999. A 2021 Centers for Disease Control study indicated that one person dies from suicide every 11 minutes. So, how does this affect loved ones who are left behind?
Losing a loved one to suicide can be emotionally devastating, and these feelings of grief and loss from suicide generally extended much further than we would think. On average, it is estimated that there are up to 135 people who are affected by each suicide loss, including friends, immediate and extended family, coworkers, classmates, and others. Megan Williams, Director of Suicide Prevention at Centerstone, explains how survivors can cope with the loss of someone they love from suicide:
Understand that it is not your fault: Oftentimes, when someone loses a loved one to suicide, they ask themselves "what could I have done?" but it is important to know that suicide is never anyone's fault.
Take time to grieve: Do whatever is right for you. There is no single "right" way to grieve a loss. Don't feel like you are obligated to share details of your loss or become an advocate for suicide prevention. Grieving takes time, but should not prohibit you long-term from participating in your normal routines or activities.
Remember the good times: Try to focus on the good times and positive memories you have with your loved one, instead of the loss. Speak their name. Recall and share all that you appreciated about that person. Write a handwritten letter outlining all that you enjoyed, respected or learned from them
Know your triggers: In the beginning, there may be people, places, or things that might remind you of your loss and trigger an upsetting or emotional response. It's important to become familiar with these triggers and help yourself develop healthy coping mechanisms so that you can continue to move on.
Reach out for help: If you feel intense or ongoing mental or physical problems as a result of your loss, reaching out for help can help. There are peer-supported suicide loss groups you can participate in and more traditional mental health therapy like speaking with a counselor.
If you know someone who is thinking about suicide, do not leave him or her alone. Try to remove any means that you think may be used in a suicide attempt and contact Centerstone's 24-hour crisis lines at:
When someone loses hope, they cannot see a way out, but hope can be found with help and support. For more resources, visit centerstoneconnect.org.
---
---