When To Seek Counseling?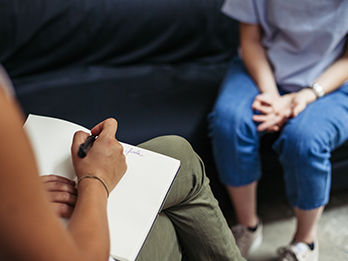 Have you ever felt like life was just too hard? Worried that you can't take the pressure, stress, and anxiety anymore?  Sometimes the stressors of life – whether situational or ongoing and dire –can be significant prompters to seek professional counseling. Having dreams, a vision and motivation for your life is an excellent pursuit. Yet, there is no perfect plan for managing it.
Everyone, including counselors, needs guidance, support, and tools to navigate through different taxing phases of life. We should be aware of when to intervene in our own lives to best manage this opportunity called life. If you or someone you know recognizes any of the following signs, it may be an indication to ask for help and seek professional counseling.
When you feel like you should
If it has already occurred to you that you need help and that you would benefit from talking with someone to help tow you out of the ditch you're in, then you should seek help. The greatest warning that we need additional assistance comes from our own sense of need. Even if you cannot identify the cause of your distress, you may feel an overwhelming need to remove it. Having a supportive counselor or therapist that can help pinpoint the issues that keep you stuck and facilitate a plan for renewal is a significant step in the right direction.
When family friction is high
Elevated stress from family friction is an invitation to seek outside help. In today's culture of divorce, single-parenting and blended families, the challenge of maintaining harmony in our homes has become difficult and complex. The expectations to keep up with all the demands can test our relationships. Today's families also have the temptations brought on by the Internet, such as gambling, pornography or any number of other luring enticements that cater to our vulnerabilities. If you want better conflict resolution skills, parenting skills or tips in managing your own stress, you do not have to solve your dilemmas by yourself. Caring professionals, experienced in problematical family issues, can help.
When grief lingers
Grief is painful. When grief is complicated or suppressed it can linger and cause unbearable effects on our lives. People commonly experience painful grief over losing a loved one, but grief can result from events other than death as well. Disenfranchised grief reflects a loss that cannot be openly acknowledged, publicly mourned or socially supported. Examples of this can be failed dreams, failed relationships, or even failed expectations. It is healthy to grieve losses in your life but if grief overtakes you and you cannot move on after a period of time, I strongly encourage you to find support through individual counseling, support groups or both.
When denial has failed
When attempts at escaping your problems have failed, and when you have become tired of being sick and tired, you can make a new decision and take a new direction. There comes a time to accept the realities of your sorrow and uncover the make-believe shelter your denial provides. Maybe you're trading one painful way of life for another. It's common for people in denial. Many mask their problems by feeding their addictions to alcohol, drugs, sex or even shopping. When denial has had its last day as the epicenter of your life, your healing has just begun.
When being controlled
If you are in any type of relationship where you are manipulated, dominated or controlled, then you need some help. Being controlling is not caring. If you believe your actions, your involvements, your finances or any part of your lifestyle have limited freedom due to someone placing restrictions on you, then stop and ask for help. You can discover healthier ways of coping and thriving. Power and control should not be a part of any relationship. Trust and understanding should be. All people deserve mutual respect and honor. Do not let your valuable life slip into seclusion and submission. Rage and resentment can build up, and you can find yourself in what seems like a trapped position. There are centers and specialists ready to offer you avenues of strength, safety, and success.
When confronted with a crisis
Survivors of traumatic events are frequently in such a state of shock that simply enduring each day becomes the primary task. Examples of traumatic events could include a sudden family death, a spouse announcing an affair or learning that a child that has been arrested. A crisis or critical incident is any incident that challenges your normal coping skills. The experience of crisis is very individual and involves a number of factors. For example, if the event was sudden or unexpected or leaves you lacking any sort of control in the matter, it can be most traumatic. If you don't have support systems or don't know of resources for recovery, the crisis can be alarming and intense. Skilled professionals can guide you through the journey of recovery.
When surrounded in sadness
If your life feels dark and lonely and you don't even care, and it seems you are surrounded in sadness, then there is a great indication that you could really benefit from counseling. Depression is more than feeling "blue" or having a bad day. Being depressed is like having the sun no longer shine on your soul. Your life may feel hollow. You may feel invisible. You may feel hope and joy are out of reach. If you have no interest in normal or fun activities or are very tired but sleep does not make the emotional or physical pain go away, don't wait another day before asking for help.
---
---