How to Maintain Balance and Productivity as your Home becomes your Home Office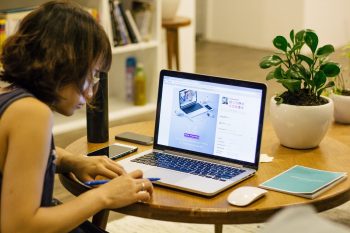 Many people have transitioned out of their regular office and are continuing to do their work from a new location: their homes.
"In some ways, it is easier to work from home, but when doing so, we must ensure that we can continue to be productive and focused on the job," says Becky Stoll, Centerstone's Vice President of Crisis & Disaster Management.
Here are some tips to working from home:
Maintain your regular hours: Keeping a regular schedule can help you balance work responsibilities and personal time without blurring the lines between the two.
Wear work clothes: You don't have to put on your best suit, but changing from pajamas into business casual attire (or whatever you normally wear to work) may help your brain transition from "home mode" to "work mode." This will also be important on video calls.
Find a dedicated office space: If possible, find a quiet room away from pets, children, and household noise. This will help minimize distractions and interruptions, allowing you to focus on your work.
Schedule breaks: Just as you would at the office, take your breaks! Go out for lunch or a walk around the neighborhood to give your eyes times to rest from the computer screen. Be sure to also take your entire break time — don't short-change yourself.
Get outside: It's easy to get feelings of cabin fever when working from home for an extended period, so get outside often to help break up the day and allow you to soak up some of the sun's rays.
Use video-conferencing: As opposed to the phone, video conferencing allows you to see the other people in the meeting and can offer more of an interpersonal connection. This is important to have if you have not been around other people for a while and can help maintain a bit of normalcy within your work routine.
Stay connected: Maintain relationships with your supervisor and teammates and communicate often! There will still be times when you might need some guidance or when you have an idea that can help others — so keep sharing!
Remember to breathe: Make a list of things that needs be accomplished in a given day by prioritizing. Take a short break after you accomplish each task.
Through this crisis, Centerstone remains fully operational and continuing to serve our clients and communities. As always, the health and well-being of our clients, staff and community stakeholders is our main priority. We have implemented system-wide strategies that reduce the risk of exposure while preparing us to respond effectively in the event the current threat level escalates. To reduce the risk of COVID-19 exposure at this time, almost all appointments are being conducted via telephone or telehealth (video). For more information, please click here.
---
---