Six Tips to Make In-Home Education Easier for Parents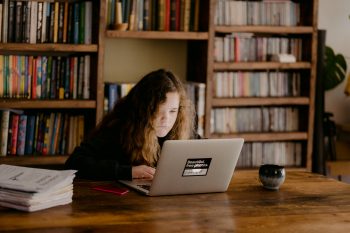 During the current COVID-19 crisis, many parents are settling into their new routine of turning their living rooms and kitchens into classrooms for their children as public and private school systems are transitioning their learning online. But for many kids (and parents), this is an entirely new experience and may cause some challenging times.
"We know how hard it is for all of these parents to now have to become teachers for their children while still taking care of all of their other responsibilities," says Edrica McDowell, Community Services Program Manager at Centerstone. "Thankfully, most schools are finding creative ways to continue educating the children even when they're not in the physical classrooms. And we're seeing many other groups and organizations step up to offer helpful resources as people of all ages try to survive and thrive in this difficult time."
To help make the most out of this new "normal," we've put together some tips that parents may find helpful in ensuring their children are getting the most from their in-home education.
Be understanding: You're likely not a teacher, but even if you are, distance learning comes with unique challenges. Give yourself and your students some time to adjust and recognize that nothing will be perfect in this new educational environment.
Stick to a schedule: Like many adults, kids like having a routine and knowing what to expect. If possible, try to stick to whatever time schedule they had when they were still going to the physical school building. Be understanding, though, that it can take a bit of time to adopt a new routine.
Reserve a regular space for learning: Ensure your child can go to the same place in your home each day for "school." Whether it is your kitchen table, their bedroom, or the porch, just make sure it is distraction-free and somewhere the child can feel comfortable doing their work.
Take breaks: Just like parents, kids need a mental break from time to time. Be sure to build breaks into the schedule for snacks, taking a walk outside or doing some stretches.
Utilize online resources: From lesson plans to reading materials and everything in between, there is a wealth of educational resources online and many are offering free or reduced-cost access during the pandemic.
When in doubt, reach out to your child's teacher or school: It's OK to ask for help! Perhaps your child needs more specific instruction or some help studying. Their teachers should still be available to answer any questions you may have, so don't be afraid to reach out.
Through this crisis, Centerstone remains fully operational and continuing to serve our clients and communities. As always, the health and well-being of our clients, staff and community stakeholders is our main priority. We have implemented system-wide strategies that reduce the risk of exposure while preparing us to respond effectively in the event the current threat level escalates. To reduce the risk of COVID-19 exposure at this time, almost all appointments are being conducted via telephone or telehealth (video).
---
---