Career Connect Named Community Partner of the Year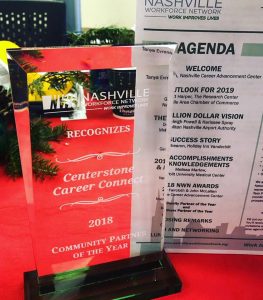 The NWN Luncheon was Thursday, December 13 at Goodwill Lifsey Center in Nashville.
Erica Roberts, Program Manager, says, "This came as a surprise to the Centerstone Career Connect team. When we accepted the award, my full team was not present, but there with me were Criss Griffin, Program Coordinator; Christian Cochran, Team Lead and Tamara Givens, Job Developer and Trainer."
Erica, Tamara and Criss are committee members on the Nashville Workforce Network Board. Since Career Connect is workforce related, they send many clients through their short-term training programs and we support them in job fairs and related community events.
Congratulations to the Career Connect team for delivering care that changes people's lives.