Centerstone Receives $2 Million Grant for Community Health Care in Illinois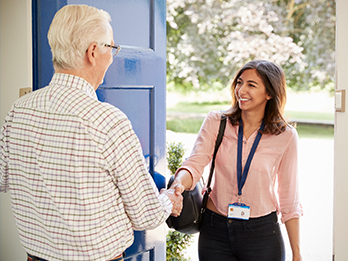 Centerstone announced it was awarded a $2 million annual grant for two years from the Substance Abuse and Mental Health Services Administration (SAMHSA) to expand and improve community health care in Southern Illinois.
"The grant will be used to increase access to and improve the quality of community behavioral health services through the expansion of services and the use of evidence-based practices to provide comprehensive community-based mental and substance use disorder services, treat co-occurring disorders and advance the integration of behavioral and physical health care," said John Markley, CEO of Centerstone.
Centerstone plans to become a Certified Community Behavioral Health Clinic (CCBHC) before 2019.
"Centerstone will establish a comprehensive community-based mental and substance use disorder service for the area, enhance infrastructure and capacity to provide comprehensive continuum of coordinated care and increase access to and availability of timely services for the area," Markley said. "One of our goals is to provide and coordinate a comprehensive scope of services to facilitate whole-person wellness and recovery."
Centerstone objectives for the grant include:
Enhance and expand existing multidisciplinary care team
Provide outpatient clinic services three evenings per week and on Saturdays
Make available CCBHC services via mobile in-home and telehealth/telemedicine treatment
Assist clients in need with benefits eligibility assessment and enrollment
Expand telehealth/telemedicine services
Expand existing crisis services to include 24-hour mobile crisis team
Provide medication management, monitoring and assisted treatment for those in need
"Services will be patient- and family-centered, recovery-oriented, wellness-focused, trauma-informed, and will integrate primary and behavioral care," Becky Hudzik, director of clinical service for Centerstone. "Centerstone's comprehensive array of evidence-based practices will create access, stabilize people in crisis, and provide treatment and support services emphasizing recovery, wellness, trauma-informed care, and primary-behavioral health integration."
The focus population will include individuals with serious mental illness (SMI), substance use disorder (SUD), co-occurring disorders (COD), and children and adolescents with serious emotional disturbance (SED) in the following counties: Calhoun, Greene, Jersey, Macoupin, Madison and St. Clair. Veterans will be a priority population.
"Within the service area, 16 percent of adults experience a mental illness, 10 percent of children have an emotional/behavioral/developmental condition, and 8 percent of adults and 5 percent of adolescents have SUD," said Hudzik. "Also, an estimated 16,300 of the area's 64,800 veterans are expected to seek care for substance use/other behavioral health concerns this year.
"The need for an expansion of services is great."
Despite the disproportionate need for services in the six-county area, residents face many barriers to primary and behavioral health care, including low service availability.
"Lack of coordinated, whole-person care leaves those needing behavioral health services at increased risk of mortality, suicide, substance abuse, hospitalization, incarceration, and homelessness," Hudzik said. "With this grant, we aim to reduce these disparities."
Health care access and behavioral health and substance use treatment are urgent health concerns. Calhoun, Greene, Jersey, Madison and St. Clair counties were designated as "Medically Underserved Areas" and "Health Professional Shortage Areas" by the Health Resources and Services Administration.
"Many residents in the area face numerous barriers to wellness, including cost of care, difficulty navigating the health care system, inadequate access to comprehensive care, and lack of coordinated care," Hudzik said. "This grant will allow Centerstone to increase access to and availability of comprehensive, coordinated and integrated health care."
The grant will also allow Centerstone to combat the rising cost of healthcare to the area by reducing the overutilization of emergency departments and primary care visits for routine and crisis mental health concerns.
"Up to 70% of primary care visits are attributable to behavioral health problems. Insufficient assessment causes the rate of unrecognized mental illness in primary care settings to be as high as 79% in adults and 83% in children," Hudzik said. "Lack of appropriate screening leads to lack of treatment; more than 45,000 adults in the service area and more than 7,000 youth with mental health diagnoses do not receive needed services."
In the six county area, an expected 6,800 adolescents and 35,200 adults need, but have not received, SUD treatment. Also, without integrated treatment, an estimated 15,500 area individuals with COD are at an increased risk of physical illness, homelessness, and/or incarceration, according to Hudzik.
"More than 45,000 people with SUD are vulnerable to health problems including heart disease and cancer," Hudzik said. "The area's 38,000 with SMI are expected to die up to 30 years earlier than the general population, largely due to preventable health risk factors."