Changing the Narrative Around Mental Health in the Military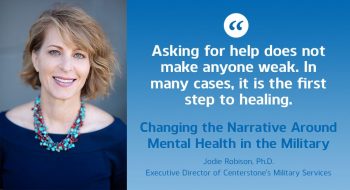 Many values are instilled in service members from their earliest days in basic military training and boot camp. Some of those values include service to others before self, honor, loyalty and a sense of toughing things out. These qualities unarguably make our nation's servicemen and women, veterans and military families some of the most self-reliant and honorable people in the world. These learned values promote a sense of camaraderie in the ranks – both while in service and after service ends.
Unfortunately, the cultural expectations for service members and veterans to tough things out can sometimes result in them suffering in silence and make them feel reluctant to seek help when they need it the most. According to the 2019 National Veteran Suicide Prevention Annual Report by the U.S. Department of Veterans Affairs (VA), the number of veteran deaths by suicide are increasing each year from 5,787 in 2005 to 6,139 in 2017.
Given the chronicity of this problem, it is time to take bigger steps to change the cultural norms within the military of not just making it okay for a service member or veteran to seek help, but acknowledging the decision to seek help and embrace it as a strength. Here are ways we can change the narrative:
Prioritize Mental Health
Research proves there is a positive link between an individual's mental well-being and productivity. Nevertheless, the toughing it out mentality still exists in the military community around mental health. A national study from the National Academies of Sciences, Engineering and Medicine found that nearly half of veterans who may have a need for mental health care do not receive such care from the VA or non-VA services.
I have seen and heard people physically suffer in silence from physical and mental pain because they feel like they're letting their fellow servicemen and women down if they ask for help. Mental health left untreated is as much as a safety risk as physical health, and it should be a priority. Asking for help does not make anyone weak. In many cases, it is the first step to healing.
Establish Supportive Environments
When someone seeks help, there should be a team ready to support and encourage that individual in a safe and supportive environment. No one should have to go through his or her healing journey alone or be in fear to seek help.
Centerstone's Military Services has a network of more than 1,000 providers, peer support services and great partnerships with Cohen Veterans Network and Support Services for Veteran Families (SSVF) to work specifically with service members, National Guard and Reserve Troops, veterans and their family members nationwide.
Our providers are military culturally competent, which helps them find common ground with our clients. One of our clients reported that his therapist taught him techniques for coping outside of therapy sessions and gave him tools he could use beyond counseling such as guided mediation. His therapist encouraged him, helped him improve his confidence and navigate the difficulties of relationships after divorce.
Promote Team Health
A team is only as good as its individual members. When one team member isn't feeling well, it can be difficult for a team to perform well at the same level. We can change the narrative of mental health in the military when we view mental health as an investment that benefits both the team and the individual.
When people join the military, they give up life, liberty, and the pursuit of happiness on their own timeline. As the spouse of an Army veteran, the child of an Air Force veteran and the parent of an active-duty Air Force Staff Sergeant, I know that military families also have to make sacrifices and that sometimes these sacrifices become overwhelming.
On this Veterans Day, as we remember and thank those who have served in our Armed Forces, let's also be sure to check-in with our veterans and military families to show them the care and support they deserve by asking those questions such as, "How can I be of support?" Everyone, including our military members and military families, needs guidance and support to navigate through different phases of life.
Jodie Robison, PhD, LPC-MHSP, NCC is the Executive Director of Centerstone's Military Services. With more than 20 years of behavioral health and management experience, Robison oversees Centerstone's military-related services, programming, operations, business development and fundraising activities. For information about military services, visit centerstonemilitaryservices.com.