Taking Care of Military Children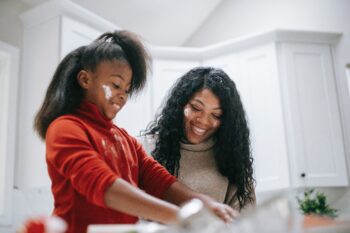 April is the Month of the Military Child, and for good reason.
Children who are raised in military families show resilience, are interesting, and are children of the world in a way that others can only dream of. Military children also deal with stressors unique to their culture. Through deployments and reintegration, moves related to permanent change of station (PCS), and as you work your way through the adjustment from military to civilian life, your children are often watching you to understand how to handle these changes.
So this month, we celebrate the resilience of military children while at the same time remembering our role in supporting them!
Anna Goletz, Director of Centerstone's Military Services, lists four ways to support and take care of military children. Helping our children internalize these messages will help them build on the resiliency they already have:
Maintain a routine. Military children are no strangers to change, as many of them move when a parents duty station changes. In fact, most military children will move 6 times before graduating high school! While it is true that military children are resilient, it is essential to help military children maintain a routine and sense of control over things that can be managed in day-to-day life. When a service member parent is deployed, it can cause a great deal of stress and anxiety for children as well as adults. Having established routines provides children with much-needed comfort and stability.
Plan deployment activities. Another unique challenge that military children face is deployment. Military children sometimes have to say, "See you later," to their service member parent and may not see them again for several months. Having special milestones to look forward to and activities to stay busy with can help children get through deployment. It helps them achieve small goals, supports self-esteem, and can even encourage friendships with other children in similar situations. Activities may include making ice cream sundaes after dinner, movie night, a trip to the zoo, or even a family road trip to see cousins or friends. It's never too late to start something new.
Encourage age-appropriate skill development. Children thrive when they are engaged in activities and learning environments that touch on all types of intelligence, and military kids are no exception! Link military children with sports programs, arts and music opportunities, nature or science camps…the list goes on! Help the children find a connection to an extra-curricular activity that brings them joy and enhances their growth. This is something that can transfer when the family moves and will remain a constant in the child's life.
Engage support from your child's school or community groups. Research shows that children are more resilient and acclimate to deployments better when they sense those close to them support their service member parent. Not all kids live on or around an active duty military installation – many military children have a service member parent in the National Guard or Reserves. This means they likely live as a civilian family until the service member parent is called up to active duty. This change alone can bring many stressors in the child's life and not having the support from a "typical" military community is all too common in these instances. Communication is key – letting teachers know about a deployment, or involving a local community group in letter-writing or creating care packages can foster a sense of support and community that celebrates your military child's experiences.
Our military children are often forced to endure so many unique challenges, yet with those obstacles comes the opportunity to ensure we instill in them the tools to grow into strong, resilient adults. These four tips are a valuable start to that end. As parents, we have a vital role in their development, so perhaps we start here. Perhaps we focus on one area at a time, put these tips into practice and watch our children thrive.
If you are in a military family and find yourself in need of extra support, Centerstone is here to help. Call us at 1-877-HOPE123 (877-467-3123) to get connected with care. For more information about how Centerstone helps those affiliated with the military, check out our Military Services page.
---
---