7 Ways to Support Teen Self-Esteem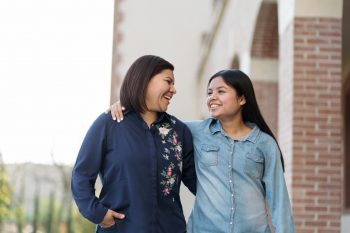 Over the years, it has become increasingly difficult for many teens to maintain good self-esteem. Even if your peers never bullied you, there can be a constant battle with the comparison that teens endure. "Teens are constantly comparing themselves to others," says Sarah Saysoukha, Prevention Team Lead for Centerstone. "Social media has heightened this even more because it only shows a highlight reel of people's lives. But seeing these highlights all the time can make you feel uninteresting. It's hard to keep up."
Beyond comparison, several other factors contribute to low self-esteem for teens. Familial abuse or neglect might majorly lower one's self-esteem. "Having a trusted adult or family member helps teens feel supported," says Whitney Salyer, Prevention Program Manager for Centerstone. "Therefore, lacking this crucial support system also contributes to lower self-esteem, even with no history of abuse." Other factors that may lower self-esteem are poor body image, being discriminated against because of identities you hold, bullying and mental health challenges.
Having good self-esteem helps teens in every realm of their lives. Teens with high self-esteem are able to build better relationships, set helpful boundaries, exercise self-care and make healthy decisions. Support from trusted adults, whether family or not, is one of the most significant contributors to high self-esteem in teenagers. If you are a trusted individual or a family member, here are some more practical ways to help teens build self-esteem:
Give them a voice. It is important for teens to feel like they are making decisions and in control of their own lives. Work to present opportunities for them to make decisions. These can be as simple as "You have time before and after soccer practice to do homework. Which would you rather do?"
Value their opinion. When there is a decision to be made, ask for your teen's input. Communicate that you are listening to them and that what they say does have bearing on how you make the decision. Try to ask them, "What would you do in this situation?"
Practice empowerment. Affirmation goes a long way. Let the teens in your life know that you appreciate who they are and the things they've accomplished. Go beyond saying, "I'm proud of you," but make the compliments more personal. Try empowering their characteristics by saying things like you have a caring heart or you're a good friend.
Encourage them. People tend to grow more from their failures than they do from their successes. Try to give teens the space to make mistakes—they are still growing and learning. Remind them that failure is okay and that it might even help them succeed in the future.
Learn from your teen. Take an interest in their interests. Ask them to talk to you about their favorite hobby, what their friends are like or anything else that is important to them. Let your teen influence you, and give them the space to share their passions with you.
Support their needs. Be supportive of their needs at this stage in life. Be involved with their academics and help where they are struggling. Try to help them as they set necessary boundaries and make plans to accomplish their goals. Take an interest in this process, and let them know that you are there to help them.
Connect them with further support. There may be times when teens need more support than you can offer. Connect them with professional counselors to help with any mental health challenges they might face. Help them connect with specific cultures, communities and more to help strengthen their identities.
If you have a teen in your life who needs extra support, Centerstone can help. Call us at 1-877-HOPE123 (877-467-3123) for more information about our teen resources.
---
---