School-Based Therapy Is Helpful to Children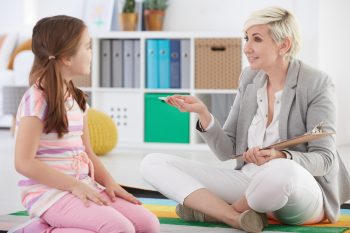 Child and adolescent years are filled with significant changes that can often impact one's mental and physical health. Young people experience new feelings they may not know how to process, which could result in behavioral, emotional, or social problems if left unaddressed. An increasingly common service to address these issues is school-based therapy.
School-based therapists work within elementary, middle, and high school facilities to help students overcome matters that interfere with success at school and at home. They can offer individual and family counseling, risk assessments, specialized training for teachers and parents, collaboration with other community providers, and more.
"Our job is to provide extra care and support to students on-site at school," says Karen Hasselman, a school-based therapist with Centerstone. "This approach removes scheduling difficulties for parents and results in less learning time lost for students,"
When there are needs that exceed what a guidance counselor is there to provide, a school-based therapist can further help with advocating for a child's needs and communicating with the family or guardian. Common issues they address include aggression, anxiety, depression, and trauma.
"School-based therapists work very closely with students and their families. We provide students individual therapy and family therapy with and without the client. If a family member needs individual therapy for themselves we can refer them to services and we offer support and education to the families and students we serve," says Hasselman, "We provide full comprehensive mental health services to students who might need extra help with various issues, for example, new adjustments, isolation or issues with substance use."
Benefits of students receiving therapy at school often include improved self-esteem, access to care, less interruption in learning, increased quality of everyday life and relationships, strengthening the use of their emotions, and increased self-awareness.
Here are several positive ways to spread the word about school-based therapy:
Share experiences. "Be honest about your experiences with therapy. It's okay to say that you or your child have received therapy and to share your positive outcomes," says Hasselman. Encourage people in need to try a few sessions and see how it works for them.
Ask for help. There are plenty of life-changing moments that can happen to families, and it can be hard to help yourself or your children. Reach out if you or your child are in need of extra support.
Express concerns. If you feel like a student or someone might need some more one-on-one support, let them know that this might be beneficial to them. Parents and students should also share their concerns as well by asking questions and learning about the process.
School-based therapy is available to improve skills and offer extra support to families and students who are in need.
If you or someone you know is in need of extra support, Centerstone can help. Call 1-877-HOPE123 (1-877-467-3123) for more information.
---
---