The Great Thing About Gratefulness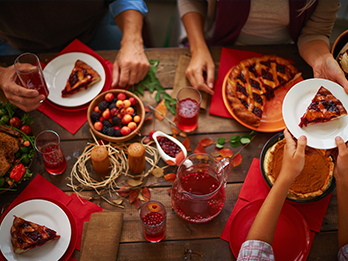 It can be very easy to get caught up in the whirlwind of family pressure that comes with the holiday season. The holidays rush in, the calendar fills up with family gatherings and social events, and expectations begin to apply pressure. While we are planning and staying busy, there are moments that we forget to reflect on.
Finding time to be grateful for the good things in our lives can make a difference for us this holiday season. Research has found that by cultivating appreciation and gratitude as a daily routine, we can make the overall holiday experience and our future days more pleasant. The act of being grateful and thankful is beneficial to your health, physically and emotionally, and can be experienced by people of all ages.
People who express gratitude, on average, have lower blood pressure, a lower risk of depression and anxiety, and a unique power to heal, energize and change lives. Taking on an attitude of gratitude can decrease pain and improve sleep, promote healthier relationships and improve all-around wellbeing. Active gratefulness also prompts people to strive to make progress toward their goals.
Here are some ways that you can integrate gratitude in your life
Document. Write down something you're grateful for in a journal each day: a special pet, a friend's kind words, warm sunlight, a child's smile, your favorite team's winning record—anything you value.
Be expressive. Express your gratitude around the dinner table with your family, asking each member to share appreciation for one thing that happened that day. Talk about good memories or people that you are thankful for. This time of the year is for reflection and appreciation.
Say thanks. Thank the people who serve you and your local communities. Thank people in your life and express how they impacted your year. Thanking people for their actions shows acknowledgment and makes them feel seen and appreciated.
Reflection. Reflect on your challenges from this year, and remind yourself the good lessons you learned from them. Take the time to acknowledge growth in the areas you might have struggled with, and the goals you have moving forward.
Celebrate. Congratulate and celebrate accomplishments with your co-workers at the beginning of a meeting before moving on to new business. Celebrate your friends and family for being present and understanding in your life. It is more than okay to flaunt your appreciation to those you care about.
Expressing gratitude can go a long way with those in your life. It's important to be vocal where you can because encouragement is a helpful tool in communicating, especially around the holiday season. Take the time to find out what you are truly thankful for in this lifetime and share it with those around you.
If you need help coping with the stress of the holiday season, Centerstone is here to help. Call 1-877-HOPE123 (1-877-467-3123) for more information.
Beth Hail is Regional Vice President for Centerstone. She holds a master's degree in social work administration and is a licensed clinical social worker.
---
---