4 Tips to Help Older Adults Stay Connected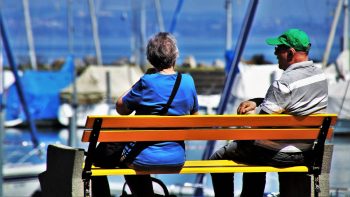 According to the U.S. Centers for Disease Control and Prevention (CDC), while the greatest risk of infection is among those who are in close contact with people who have COVID-19, older people and people with underlying health conditions appear to be about twice as likely to develop serious outcomes versus otherwise younger, healthier people.
To help people stay safe, CDC developed a checklist for nursing homes and other long-term care settings take steps to assess and improve their preparedness.
But what about older people who aren't in nursing homes or long-term care?
"Avoiding crowds and staying at home is necessary to prevent the spread of coronavirus, but it can lead to feelings of isolation and loneliness for many older adults," says Helen Blackburn, Director of Vocational & Residential Services at Centerstone. "Many of them are used to the connections they have with family, friends, neighbors, faith communities, clubs and social services, but now that those avenues are on hold, they're likely feeling lonely and disconnected. Anyone who can should reach out to express support and remind them that you're grateful that they're a part of your life."
Here are some other tips to keep elderly people safe, calm and healthy during the pandemic:
Take care of yourself first. As a caretaker, you need to be sure you're following all of the precautions – washing hands, staying inside, avoiding crowds – so that you don't get sick.
Distance, not isolation. Many older adults enjoy spending time with friends and family, but that has become more difficult lately. Encourage them to think beyond their usual circle and check in on neighbors, their mail carrier, or others they might see, while also maintaining their space. "Social distancing doesn't have to mean isolation or loneliness," says Dr. Alicia Arbaje of Johns Hopkins. "We need to keep older adults safe, but also keep in mind that social isolation can have a negative impact on older people's immunity and mental health."
Technology can help. Show older adults how they can video chat with friends and family. Find apps on their phone or tablet to provide captions. Encourage other friends and family to send them notes in the mail, call them, or find other ways to reach out.
Minimize the risk. Postpone any unnecessary doctor visits and avoid any unnecessary travel. Ask their doctors' offices if they're doing telemedicine (via phone or video) to help them stay in touch if they want. Then, decide on a plan for what will happen if they start to get sick.
Through this crisis, Centerstone remains fully operational and continuing to serve our clients and communities. As always, the health and well-being of our clients, staff and community stakeholders is our main priority. We have implemented system-wide strategies that reduce the risk of exposure while preparing us to respond effectively in the event the current threat level escalates. To reduce the risk of COVID-19 exposure at this time, almost all appointments are being conducted via telephone or telehealth (video). For more information, please click here.
---
---