How Holiday Celebrations Can Bring You Happiness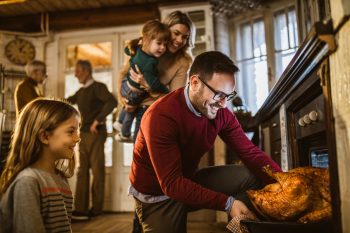 The holidays are all about celebrating the values that bring us together in life, such as our friends and family. These important connections can bring us unity through togetherness, generosity, and gratitude. Many holidays during the fall and winter months are ways for us to gather with those we love and care about, and express our gratitude and appreciation for them. While these holidays are all about giving thanks and gratitude, it is also a time for giving!
"Giving back to our communities is especially important during the holidays, but it is a good reminder to integrate it into our lives year-round," says Darcey Meridith, Vice President of Child Services at Centerstone. The holidays are best celebrated by surrounding yourself with people you feel the most connected to, whether that is family, friends, or your community.
One of the best ways to celebrate with our loved ones is by gathering together and vocalizing our appreciation for one another. Studies show that practicing gratitude regularly can make us happier by increasing our mental health, enhancing positive emotions, boosting our self-esteem, and reducing negativity. Although the holidays are meant for reflection, we all might benefit from the happiness that gratitude can bring if we practice it every day.
During this holiday season, try to utilize these ways of practicing your gratitude with your loved ones or community:
Vocalize your gratitude. It's important to take the time to thank the ones you love for their presence in your life. You might tell them how thankful and grateful you are or you might feel more comfortable writing about how important they are to you. Taking the time out of your day to show your appreciation will make a difference in their lives.
Connect with loved ones. Whether it is a big family celebration or even a small gathering with your closest friends, connecting with those you love is the most important during the holiday season. "Spending time focusing on what we are grateful for with those we love improves our relationships with them," says Meridith.
Volunteer your time. The holiday season is also about giving back—volunteer your time around your community, gather donations for those in need, or perform random acts of kindness. If you're celebrating with family, maybe volunteer your time in helping your loved ones get the evening ready for the gathering.
Focus on positivity. "Try to avoid negative interactions during the holiday season. Challenge yourself to find the positive in any situation," says Meridith. There might be pressure to create the perfect environment, but remember that everyone is trying their best, and the holidays are about gratitude and happiness.
The holidays can be challenging to celebrate, but remember it is a time to reflect on our meaningful connections and why they are important to us.
If you or someone you know is struggling with their mental health, Centerstone can help. Call 1-877-HOPE123 (1-877-467-3123) for more information about our counseling services.
---
---