Making the holidays meaningful through tradition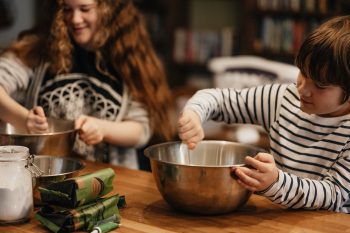 People, especially parents, often put in a tireless effort to make the holiday season special. We spend an enormous amount of energy making certain our families, particularly our children, experience a holiday season that is full of tradition and warm memories.
"Many of us have warm feelings about the holiday season and are driven to create the same warmth for those we love the most," says Darcey Meredith, Vice President of Child Services at Centerstone. "It is through the creation of traditions that we experience the bond of family, the spirit of giving, the fulfillment of sacrifice, and concern for those less fortunate. As a result, we are left richer and more firm in our values."
We want to offer some ideas for traditions and activities families can use to enhance the value of the holidays for their children and loved ones.
Help children select gifts for loved ones.
A key developmental milestone in childhood includes children learning, identifying, and appropriately expressing their feelings. Therapists call this "a feeling vocabulary." And this feeling vocabulary is just as important as a spelling vocabulary. Helping children understand that gift-giving is an expression of care and love is a wonderful skill to grow. This helps them express their natural love for family and friends in a manner that is healthy.
Ideas may include crafting a personalized tree ornament or holiday card, a framed photograph or a poem written by the child.
Create holiday moments that foster a sense of belonging.
Did you know that humans need to feel a sense of belonging, just like the need for food and water? Adults also model this sense of belonging for children at home. Children learn and develop a sense of identity through their relationships and experiences at home, through family interactions, and their environment. A sense of belonging into a healthy family system is a very powerful buffer against childhood stress and even trauma. During the holidays, parents and caregivers can be both deliberate and spontaneous in their efforts to create holiday moments where a child has the opportunity to feel like they belong.
Parents and caregivers might include the child through activities, such as sharing a special family holiday outing together to look at holiday lights, baking cookies together, or dressing up in matching colors. Taking that ever-embarrassing family holiday photo can also be a powerful belonging-builder for children.
Give children a role in the holiday preparations.
Visceral experiences—those experiences that provide deep emotional nurture—play an important role in our childhood memories. Good childhood memories provide lifelong encouragement, even during the darkest of our days.
Giving children a role in holiday preparations, such as assisting with baking, present wrapping or decorating, provides an intuitive experience. Beyond providing them with a sense of belonging, this will elicit responsibility, cooperation, and independent functioning and help them internalize these traditions modeled in your household.
Select a family service project or volunteer as a family at a holiday community event.
Engaging in service and volunteering is a great way to participate in your local community, honor the value of diversity, and teach children about service to others. Many holidays can be self-focused, but turning our eyes outward toward others can help us balance this out. Service ideas may include providing gifts for a similar-aged child in need, adopting a family by providing a meal for them, adopting a "grandparent" at a convalescent home, or volunteering at a community event that holds a different tradition than your own family tradition.
Whatever your family traditions, we hope that through your holiday activities your family will grow and experience the peace, joy, love, and hope that makes the holiday season special for so many!
Centerstone supports the mental well-being of children and families through a wide variety of programs and services. If you or your child are in need of extra support during the holidays, call us at 1-877-HOPE123 (877-467-3123) to learn more about our counseling services.
---
---