Reduce the Stigma of Marriage Counseling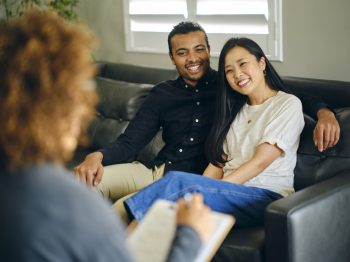 There's nothing else quite like the promise of spending the rest of your life with someone, but sometimes marriage might be difficult. When circumstances begin to weigh on that union, marriage counseling can help couples understand and resolve conflicts and improve their relationship by focusing on how to fix it.
In fact, nearly 50 percent of married couples have gone to marriage counseling to work through chronic arguments, concerns, and to communicate struggles with a neutral party.
"Going to marriage counseling gives couples a platform to be able to work through and learn the tools and techniques to be able to talk to one another," says Gemma Clayson, director of Community Programs at Centerstone. "It's a safe space. Counseling guides you towards solutions for any underlying struggles between you and your spouse."
Marriage counseling is important because it helps develop skills for communication, listening, conflict resolution, and validating emotions.
"Learning these skills from counseling will impact your relationships not just with your spouse, but with relationships in your work environment and with family members. It's more common to seek help than people realize," says Clayson.
Even though 50 percent of married couples have gone to marriage counseling, there is still a negative connotation associated with receiving therapy.
"People are afraid of change," says Clayson, "It's hard to disrupt your routine or even admit that you might need help in your marriage."
Remember, there is no such thing as perfection, and it is okay to ask for help. Here are some skills you might acquire through therapy:
Conflict resolution. Conflict is not always bad. It's learning about how to address the conflict. As people, we develop patterns and tend to avoid having difficult conversations. Be honest and talk about what you are feeling.
Active listening. Try learning how to listen with the intent of really hearing what the person is saying versus just listening to respond. Give your partner full attention and listen to what they say and how they say it.
Communication skills. It's important to try and have those critical conversations with your partner. If you and your partner aren't talking, it's usually another indicator that you might need to talk to about that.
Validating your partner. You don't always have to agree with what your partner is thinking, feeling or saying, but you can validate and offer empathy to what they are going through. Make them feel heard and seen. Let them know that you are there for them.
Remember that you are not alone in your journey. There are many professionals out there available to help you, your spouse, and your marriage.
If you or someone you know is struggling with their spouse, Centerstone can help. Contact us at centerstoneconnect.org or call 1-877-HOPE123 for more information.
---
---