What Do Social Workers Do?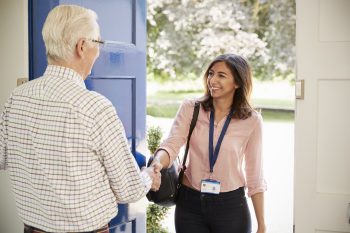 When people think of social work, they often associate it with therapy or case management, but social work is much more than those two foundational elements. Social work is a job field that ignites systemic change by helping community members achieve desired goals and improve their overall quality of life. Social workers get people linked to resources that help meet their needs, advocate for policy change, and conduct research to find compelling evidence that generates necessary funding.
According to Social Workers.org, in 2021 there were more than 700,000 people in social work positions, and that number is expected to grow in the coming years.
"Social workers are integrated into just about every career field you can think of," says Melissa Gilbreath, Early Childhood Services program manager at Centerstone. "They are present in hospitals, police departments, schools and colleges, community mental health, private practices, lobbyists in D.C., and so many other professional settings."
Social workers play an important role in the growth of clients and their communities. Here are more details about the benefits that social workers provide:
Advocacy. Social workers encourage their clients to advocate for themselves and their needs and to further that into their communities to create change. When social workers help their clients, they are giving them the tools they need to succeed by building self-efficacy.
Empowerment. Social workers are meant to be there for clients in a non-judgmental way—having empathy to recognize that the client may not be where they need to be, but taking the time to help them get there. Social workers use their knowledge to uplift clients and help to address their trauma and struggles by providing them a safe space to share.
"Social work is very client-centered," says Gilbreath, "It doesn't have to just be a client—it can be a group or community, but it is about starting with where they are and where they want to go and eliminating barriers that prevent them from succeeding."
Resources. Social workers help link clients to resources and can provide other resources to assist them. Some of the resources might include education, reliable transportation, family or individual counseling, medication, and more.
"We are coming to a scenario and identifying what barriers are in the way, and intervening by identifying what needs we can help them meet," says Ericka Davis, a therapist at Centerstone.
Social workers love what they do, and their overall goal is to help people achieve goals to further strengthen our communities.
If you or someone you know is struggling with their mental health, Centerstone can help. Call 1-877-HOPE123 (1-877-467-3123) for more information.
---
---