Centerstone receives grant from Southern Illinois Leadership Institute to purchase family strengthening kits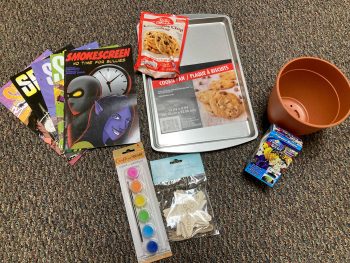 Centerstone, a nonprofit health system specializing in mental health and substance use disorder treatments, began distribution of 50 family strengthening kits thanks to a $750 grant from the Southern Illinois Leadership Institute, a new initiative of Southern Illinois Community Foundation.
The purpose of the kits is to bring family units in need together, to strengthen the family bond, and have a positive impact on the family as a whole and especially the children. Kits contain items such as cooking, art, and gardening supplies as well as Centerstone's comic book series about "Spark," Centerstone's teen superhero, whose stories told in comics can help other teens understand and deal with situations they may find themselves in.
"The kits are intended for families to do something fun and productive together. Cookies, painting, and planting are all great hobbies to have and do as a family," said Diedra Hopes, Centerstone's Family Services clinical manager. "You can learn a lot of valuable skills by doing these types of activities."
Centerstone's Family Services staff purchased and assembled the kits and began distribution to area families. Family Services employs Family Resource Developers (FRDs), a trained parent who has lived experience and who can relate to their peer's story and journey. FRDs also can offer direction to help peer parents navigate various child serving systems. FRDs support peers in their decisions and choices they make for their family.
FRDs will connect with families identified by their Family Services therapists and/or school referrals as needing strengthening of engagement with their family. After the initial consultation with the family with the FRD, the family would then be referred to attend Centerstone Family Engagement sessions. Curriculum of these sessions would be recommended by the FRD based on each family's immediate needs, but could include topics such as building positive relationships with your children, understanding trauma and stress, and positive communication skills.
After parent peer consultation and completion of any recommended sessions, families are given a family strengthening kit.
"The Family Resource Developers are excited to give these kits to families," said Preston Simpson, Centerstone's Family Services coordinator. "These kits are another way we are all working together to deliver care that changes people's lives."