Five Ways to Handle Holiday Hazards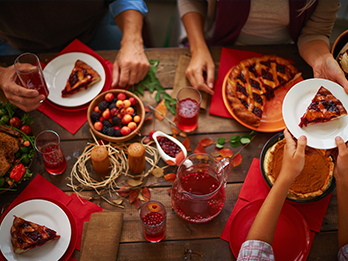 Holidays are a time to enjoy traditions, family and friends.
However, we often let our behaviors prevent us from making the most of a special season. The likely result maybe tons of stress on us and our families.
Here are five examples of holiday hazards, with tips to minimize these behaviors, reduce stress and enjoy the holiday season.
Perfectionists: Be Flexible
Your homemade Southern cornbread dressing may be the biggest hit of your family's annual holiday gathering, but your new mother-in-law believes dressing should include a lot of sage. You believe that reducing sage in your recipe is what makes it taste best. Accept that you can't please everyone all the time. Learn to host gatherings in a different way. Apply the potluck model to holiday parties. Delegate tasks to others and don't be overambitious. Don't make the mistake of trying to do too much.
Family Feud Finders: Be Forgiving
During the holidays there are many opportunities for family togetherness, and that's usually a good thing. Many of us travel to visit family we don't see very often. Spending time reconnecting and bonding with family is part of what makes the holiday season special. However, family time can cause stress and hurt feelings, especially when dealing with family dynamics that include power struggles, passive aggressiveness and a lack of understanding.  These are all very common problems, even in very loving families. Sometimes combining families can cause more dysfunction than delight. Try to accept family members as they are, even if they don't live up to your expectations. Create meaningful moments by loosening expectations and being open to differences.
Shop-'til-you-drop Spenders: Be Creative
Avoid financial fiascos by creating and sticking to a budget. We tend to mistakenly associate the price of gifts with the significance of the recipient. Be creative when planning gift exchanges with friends or family. Draw names so each person buys only one gift. Or set a price limit so no one is tempted to overspend. Reduce your holiday shopping by purchasing all gifts at one store. For example, buy everyone on your gift list a book based on their interests. Spend less money and more time with people you care about. Overspending creates additional stress when the bills arrive.
Chow Down Champions: Plan Better
We all know the feeling of a full stomach after a huge holiday dinner. You don't have to feel guilty for indulging in holiday foods. A better plan will help you avoid guilt. Approach the holiday dinner table prepared to share conversation or stories. This tactic will derail your mouth from eating a second serving of mashed potatoes. Use smaller serving utensils so your plate won't tower with massive scoops of all seven side items. There is always a price to pay when overeating. Plan your day and your mealtime with intention. Keep your eye on your belt, not the bread!
Greedy Guests: Be Grateful
Kindness and consideration should not be forgotten during holiday celebrations. Express gratitude for even the smallest gestures of giving, planning and preparing. Acknowledge hosts, those who prepared the meal and those who provided decorations for the occasion. If you are an overnight guest in someone's home, end your stay by leaving the space a little nicer than when you arrived. Clean your guest room as a display of gratitude for your host. This will minimize your stress, and allow you to share the warmth of a grateful heart. Gratitude is at the center of any celebration.
---
---