The Mental Health Benefits of Deep Friendship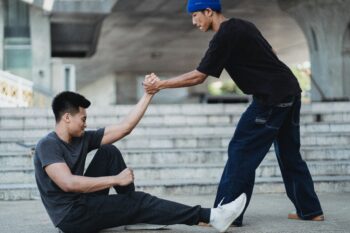 We can't live life fully alone – we all need some sort of support system. While our families can provide good built-in support systems, we can also build strong friendships to help us. Some may even find it easier building support from friends than from family. "Deep friendship reduces isolation, creates a sense of belonging and acceptance and reduces feelings of being a burden, which can combat symptoms of depression and social isolation," says Amanda Mullins, Manager of Adult Services for Centerstone.
Building deep friendships with friends can be scary, as it will likely require some level of vulnerability. But being vulnerable with others can provide opportunities for being supported, as well as opportunities for others to open up to you where you can support them.
Why you should form deep friendships
When you open up, it can take your relationships past surface-level and allow you to care for each other better. "If you're hesitant, you can allow honesty in your relationships to come in layers," says Amanda Mullins. "Slowly open yourself up, building trust along the way. As you see your vulnerability being received well, you can continue opening up with more confidence."
Being vulnerable also provides an opportunity for the other person to be vulnerable with you, opening up mutual lines of support. This breaks down a common perception that you are the only one struggling. You can both come to each other with any issues, including mental health challenges.
While deep friendships should not take the place of professional therapy, they provide support in ways that therapists cannot. While therapists must maintain clear boundaries and confidentiality laws, friends do not have these defined limits. While both provide good accountability, friends are more accessible, allowing for more constant support. Friendship also offers companionship to a level that therapists cannot achieve, as well as more humor.
Maintaining friendships during hard times
The times you are struggling most can be the hardest times to maintain your friendships. But when you are struggling, try to resist the urge to pull away. Instead you can set healthy boundaries in mutual respect with one another. Be honest with where you are mentally and what they can expect from you during this time. Let them know ways that they can increase support to help you during this time.
Before you get to a time of needing more support than you can give in return, give that level of support to your friends in their hard seasons. "Just like you need their strength in your weakness, be strong when they are weak," says Amanda Mullins. "It's important to remember that friendships are a two-way street which take work, like all other relationships, to be beneficial." And even when you yourself are feeling bad, you can find therapeutic value in reaching beyond yourself and serving others.
Walking through hard times together can strengthen your friendship. It proves that you can be there for each other at all times and get through anything together.
If you are struggling with mental health challenges, Centerstone is here to help. Call us at 1-877-HOPE123 (877-467-3123) for more information.
---
---