A Salute to Military Children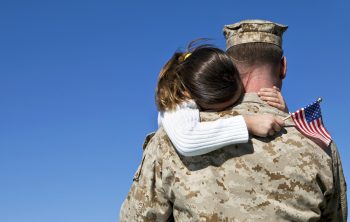 Military children deserve our gratitude
Gratitude for our nation's veterans and active military members are rightfully common across our country. We hold in our hearts the exceptional nature of their bravery and service.
Their sense of duty, honor and commitment is crucial to the freedom and security we enjoy as a nation.
Less noticed, however, is the bravery and service of our military family members – especially their children.
These young people often encounter unique psychological and social challenges in light of their close family connection to America's heroes.
"Children of deployed military personnel have more school, family and peer-related emotional difficulties, compared with national samples," according to the Substance Abuse and Mental Health Services Administration.
Dr. Robert Begtrup, a psychiatrist at Centerstone and retired U.S. Army Reserve colonel who served families at Fort Campbell, agrees.
"A typical cycle occurs within most military families: anticipating a parent's deployment, the sadness upon deployment, readjustment in family member functions during deployment and the challenge of adjusting to frightening news from the front, whether involving family, friend or classmate," he says.
The Cost of Saying Goodbye
Military children have watched mom or dad leave time and again.
They may experience anxiety and depression when a parent is gone. Then, when the family is back home together, they're worried about the next deployment.
They may also struggle to make social connections if a parent is frequently reassigned to a new base.
Lisa Eggebeen, LCSW and director at the Steven A. Cohen Military Family Clinic at Centerstone, which serves post-9/11 veterans and their families, says, "Considering the operational tempo and deployment cycles in their family culture, it's important for these kids to explore their feelings, confront their concerns and develop healthy coping skills. Some military children have avoided close friendships, knowing a goodbye is bound to follow."
---
But what a missed opportunity it would be not getting to know a military child.
---
Catherine Fearn is a mother who served as a Mariner in the U.S. Army and now works with Centerstone's Supportive Services for Veterans Families. In her role, she helps those families find housing.
"These are some of the strongest, most resilient people around. They're strong-minded and adaptable to change. Their experiences make them culturally diverse; some have traveled the world, speak a second language and respect different cultures."
Colonel (Retired) Kent Crossley recently served as executive director of Centerstone Military Services, which links active military members, veterans and families to free counseling services nationwide.
"Everyone remembers to thank a veteran or active service member," he says. "But it's easy to forget that children and spouses serve too."
---
"They sacrifice a lot for our country."
---
Indeed, military children in the United States deserve our ongoing thanks and support for what they give to our country by giving up certain family and social norms. Thank you, children, of the military, for your service.
About the author: Dr. Bob Vero is Regional CEO, overseeing Centerstone's Tennessee-based operations.
---
---